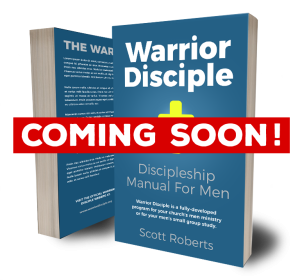 The Warrior Disciple system, which follows the Warrior Disciple book, is designed to be a highly flexible and adaptable men's program that works with any size group of men –  from a modest circle of friends that meets in your home or a local coffee shop to the broadest of mega-church ministries, and everything in between.
Warrior Disciple meetings can be held at any frequency – weekly, bi-weekly, or monthly, and is developed to last from approximately 9 to 12 months in length.
Except for the purchase of the Warrior Disciple book, this program, support materials and videos, as well as rights to use this system, are completely free!
The Warrior Disciple book and program contain 18 modules loosely based on eight different topics (including the Gospel, Marriage, Parenting, Godly Character, Evangelism/Apologetics, and more).
View the steps below for more details:
Step 1
Step 2
Step 3
Step 4
Step 5
Step 1
Purchase or acquire a copy of the Warrior Disciple book for you and/or copies for your local group of men.
Step 2
Step 3
Step 4
Step 5